What is the minimum order amount? The minimum order amount is $250. You can mix and match styles and sizes in order to achieve that amount. You still have to order the minimum order quantity indicated on each catalog page.

How long does it take for delivery? Generally, the lead time for production is 10 - 14 working days. The lead time for delivery is based upon your location. We ship from New York using UPS.

What are the payment terms? The terms are prepaid. You can submit payment by check, PayPal, VISA, MasterCard or American Express (AMEX). If you prefer to pay by credit card, please complete a Credit Card Authorization Form and fax/email it to us. All credit card payments require this form. All your information is kept private and secure. We do not share your information with any company or person. Government orders have special consideration.

How much are the set-up charges? The set-up charges are $25.00 per color. If you require PMS / Pantone color matching, there will be an additional PMS color match charge. There are no Pantone color matching charges for multi-colored imprints.

Can you print multi-colored logos? Multi-colored logos can only be printed onto white colored backgrounds. We offer solid white colored t-shirts as well as white shirts with colored sleeves. We can also print photographs. There is a small charge for multi-color logo imprint.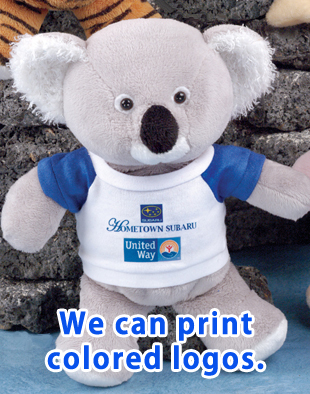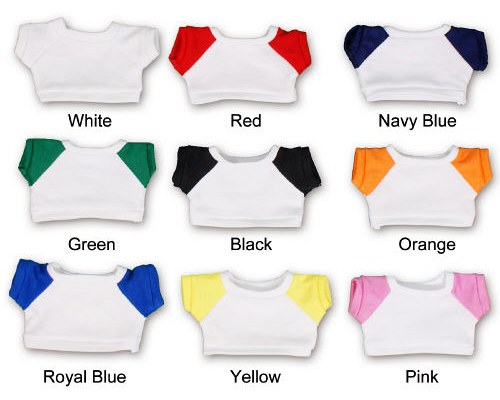 Do you charge sales tax? Sales tax is charged on orders originating in California. If you have a valid seller's permit and wish to avoid the sax tax, please complete our Sales Tax Form. Upon approval, your account will be noted.

Do you accept orders from outside the United States? Yes. We service the needs of customers worldwide. You are responsible for all duty, freight and import fees. Our price quote will not includes these fees. We can only ship using your UPS, FedEx or Purolator account number.

Do you offer better pricing for large orders? Yes. If you order a large quantity, we can have your order manufactured in China and shipped directly to you. You will save money but the lead time for delivery to your location is 75 days.

Can you manufacture custom mascots or plush toy designs? Yes. We have manufactured thousands of custom plush toys for our customers. Please refer to catalog pages in the rear of the catalog for examples of custom plush toys and mascots. Our custom plush toys are made in China with a lead time of 75 days for manufacturing and delivery to the Port of Los Angeles. Send us your plush mascot design for a free quotation.

If you have additional questions, please send an email to Sales@BearFactory.com.

Our company offers many styles and sizes of custom teddy bears and personalized stuffed animals. Visit our online catalog to browse the many pages of promotional teddy bears and plush toys. Many of our teddy bears include embroidered eyes. Some customers prefer teddy bears with embroidered eyes for use with young children. If you have a question about embroidered eyes, please ask your Sales Associate for assistance.

You can Click to Enlarge any catalog page. A .pdf page will open. This page is suitable for printing and for enlarging. Adobe Acrobat Reader is required to open .pdf files for viewing. These .pdf pages can be printed for easy sharing. Maybe you are making a presentation or attending a committee meeting? Print the catalog page and bring it with you. Personalized teddy bears are great for school fundraising events and corporate promotions.

Please email your artwork for review. You should submit artwork that does not need to be altered. The two biggest issues we encounter is artwork resolution and artwork print width. We cannot use .gif images and .bmp images. These images are not useful for printing high-solution artwork. All images you send should be high-resolution (at least 300 dpi.). Please ask your Sales Associate if your have any questions concerning the artwork procedure.